Welcome to Rheumatology India
Dr Sarath C. M. Veeravalli MD, MRCP (UK),
Chief Rheumatologist,
Krishna Institute of Medical Sciences,
Hyderabad, AP, India.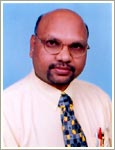 Thank you for visiting the Rheumatology Web site. I am hoping to provide information and better care for arthritis patients through this website. Rheumatology department is one of the most popular departments in KIMS (Krishna Institute of Medical Sciences), Hyderabad, India. The department of Rheumatology is committed to providing the best care possible to our patients and training the GPs who are wishing to take care of arthritis patients in remote areas.
There are more than 150 varieties of arthritic conditions. The commonly encountered conditions are Rheumatoid Arthritis, Osteoarthritis, SLE (Lupus), Gout, CPPD, Scleroderma, MCTD, Polymyositis, Dermatomyositis, Polymyalgia Rheumatica, Giant cell arteritis, Osteoporosis, Osteomalacia, Rickets, Renal Tubular Acidosis, Takayasu's, Wegener's, Churg-strauss, Polyarteritis nodosa, Ankylosing Spondylitis, Psoriatic Arthritis, Reactive Arthritis, Enteropathic Arthritis, Juvenile Rheumatoid Arthritis, Low back pain, Fibromyalgia, Tendinitis and bursitis.
Rheumatology department is supported by a well equipped orthopedic department. We also have dedicated physiotherapy department to help the arthritis patients. We have patients coming from all over India and also NRIs from US, Canada, UK, Australia, Saudi Arabia and Tanzania. We have satellite Rheumatology Centers at Rajahmundry (Bollineni Heart Centre, Tel - 0883 2461123), Kakinada ( Safe Emergency Hospital, Tel - 08842 383366 )and Visakhapatnam (NRI Hospital (0891-2535063).